How to chat on your IOS mobile
In the following article, we provide information about how you can install and use the Ozeki IOS application for chatting with friends. The Ozeki Chat service offers a secure, reliable means of communication. You can find video tutorials with step-by-step explanations on this page, so if you get stuck on a step, you can read the explanation for more information.
Ozeki Chat provides a secure and reliable communication tool, allowing you to chat with your friends or colleagues. It also provides real-time message updates for users. In-house live chat software allows businesses to engage with their customers in real-time, delivering rapid and convenient solutions to their problems. Compared to traditional email or telephone support, live chat offers a more direct and personal interaction. MyOzeki Chat, the base of the downloadable Ozeki Chat, is an essential help for businesses aiming to provide excellent customer service. With its use, your clients will feel valued, and your customer interactions can level up.
How to chat on your IOS mobile (Plain instructions)
To chat on your IOS mobile
Open App Store
Find Ozeki chat application
Download and install Ozeki chat application
Open Ozeki chat app
Enable notifications on your device
Log in or create your Ozeki account
Install Chat service
Add friends by e-mail
Click on Chats menu
Open conversations
Select your recipient
Type your message
Send message
Wait for message replies
Installing Ozeki App from App Store (Video tutorial)
On iOS devices, your main source of applications is the App Store, where you can download several apps to customize or enhance the features of your phone. The Ozeki app can also be found on the App Store by searching the keyword Ozeki. The installation speed depends on your internet connection, but it should not take more than a few minutes.
Sending chat messages from the Ozeki App (Video Tutorial)
Once you have installed the Ozeki application and opened it, you will need to either log into an existing account or create a new one. In our video guide, we show how you can create your new account. Once you are logged in, look for the Install Services... button at the top of the app. Install the Chat Service and open it. Once you have opened it, you can add new friends who you can message, and if they are available to chat, they will respond.
Install the Ozeki App
To install the Ozeki App, head to the App Store and look for the Ozeki App. Install it. This process should be really quick.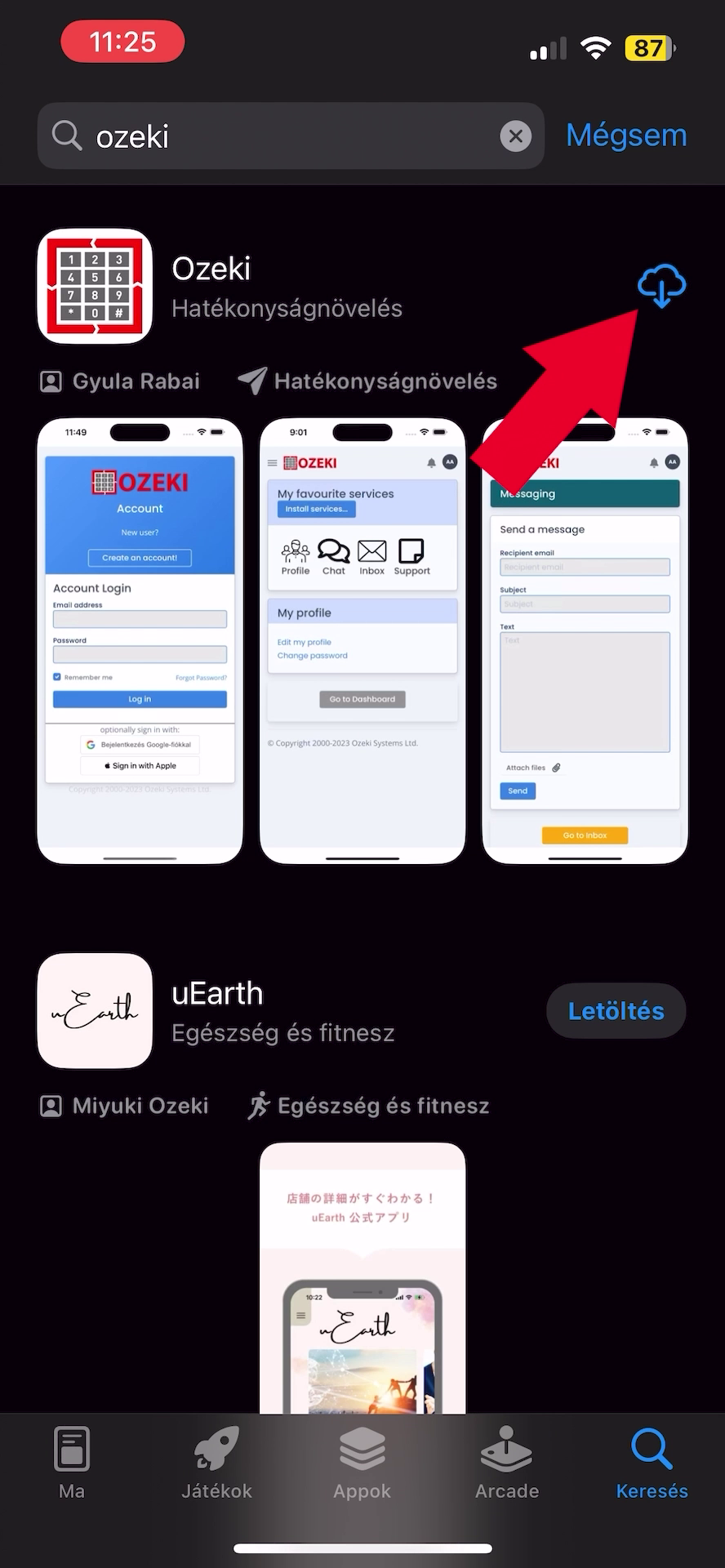 Open the Ozeki App
Once you have installed the Ozeki App, Open it with the button next to it, or from your device's home page.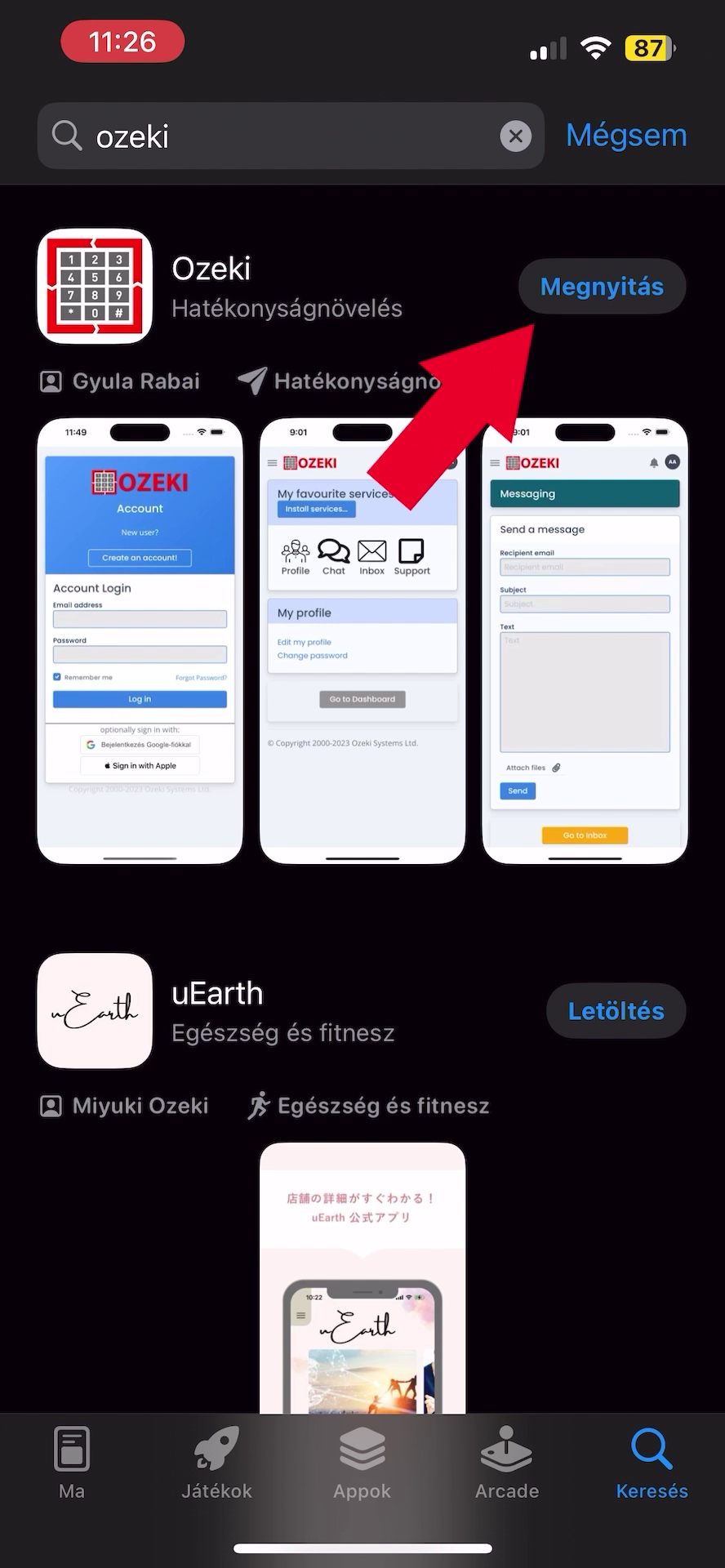 Register or Log into the Ozeki app
If you already have an existing account, log into the application, if you are a new user, you will need to create your new account.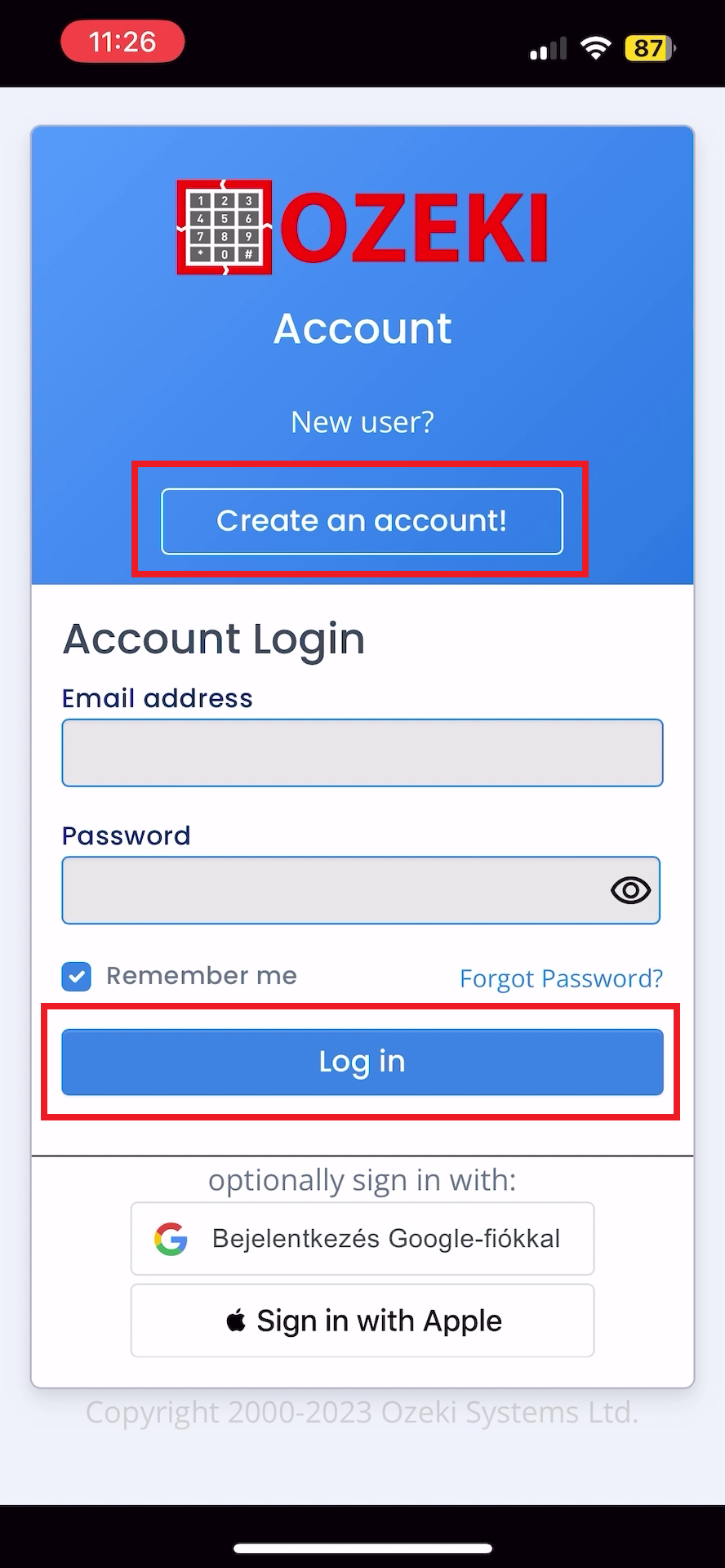 Install Services
Look for the blue button with the label Install Services... to install the Chat service. The button should be at the top of the application screen.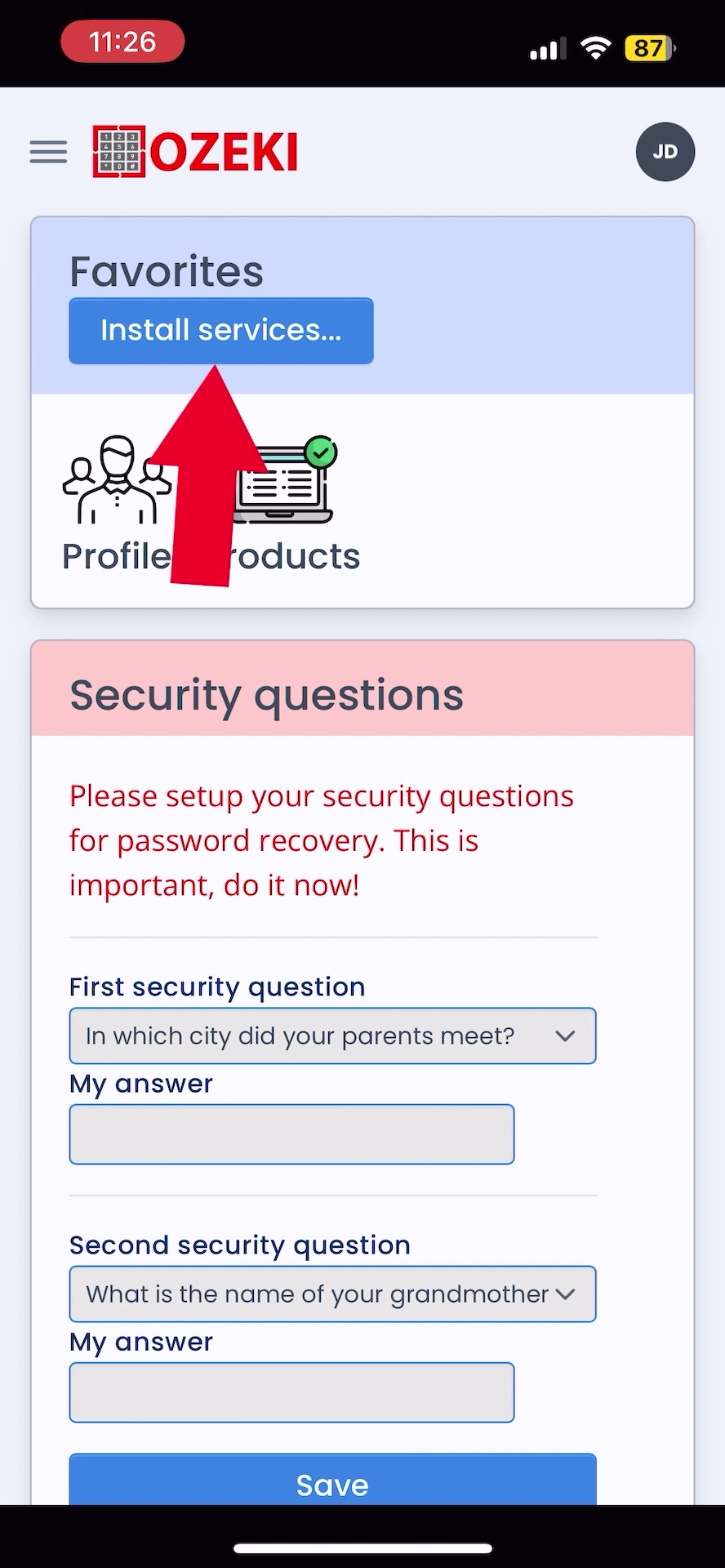 Install the Chat service
Look for the little chat bubble icon with Chat written next to it. Click on the green Install button next to it to setup your Chat service. This should be a really quick process.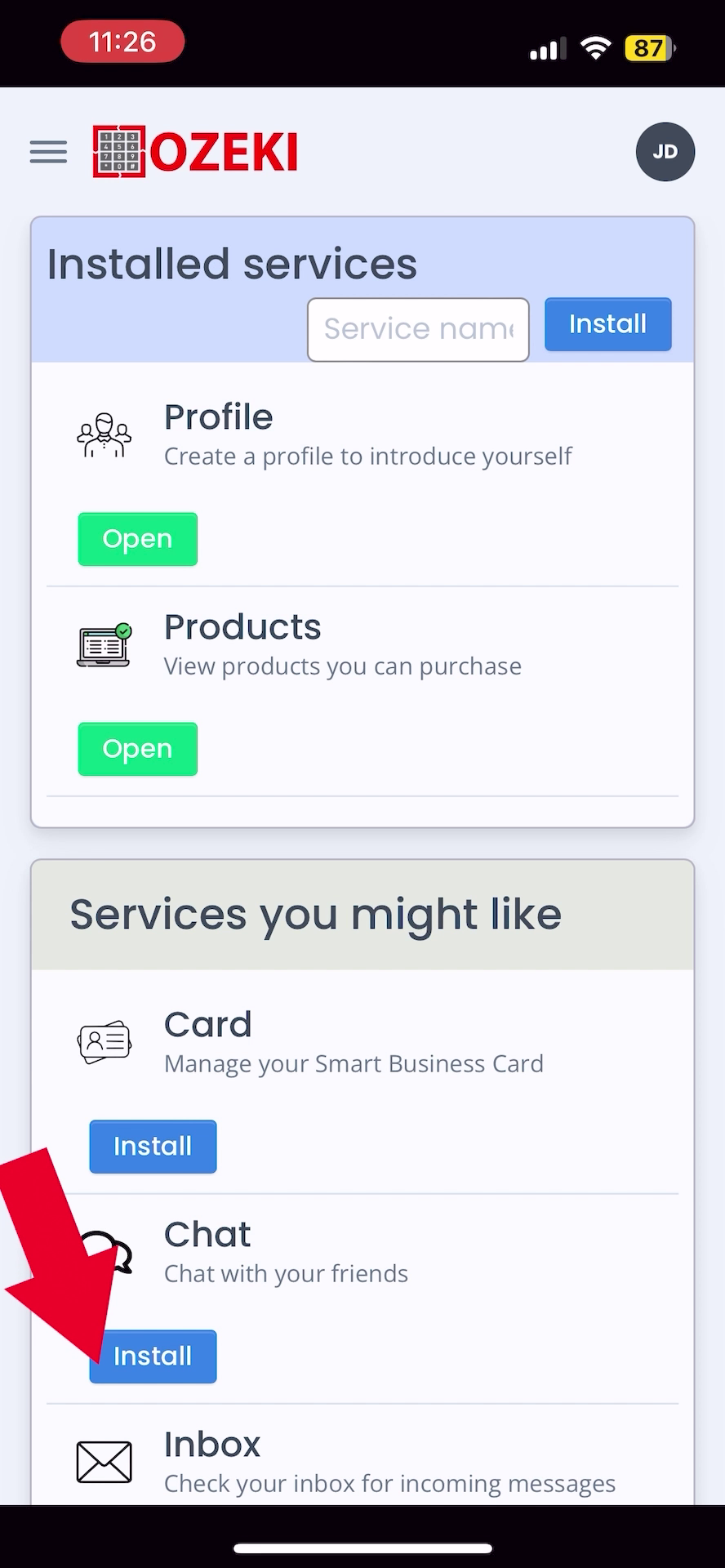 Open the Chat service
Once you have installed the Chat service, you can see it between the other installed services. Click on the green Open button next to it, or head to the dashboard and open it by clicking on the chat bubble with Chat written under it.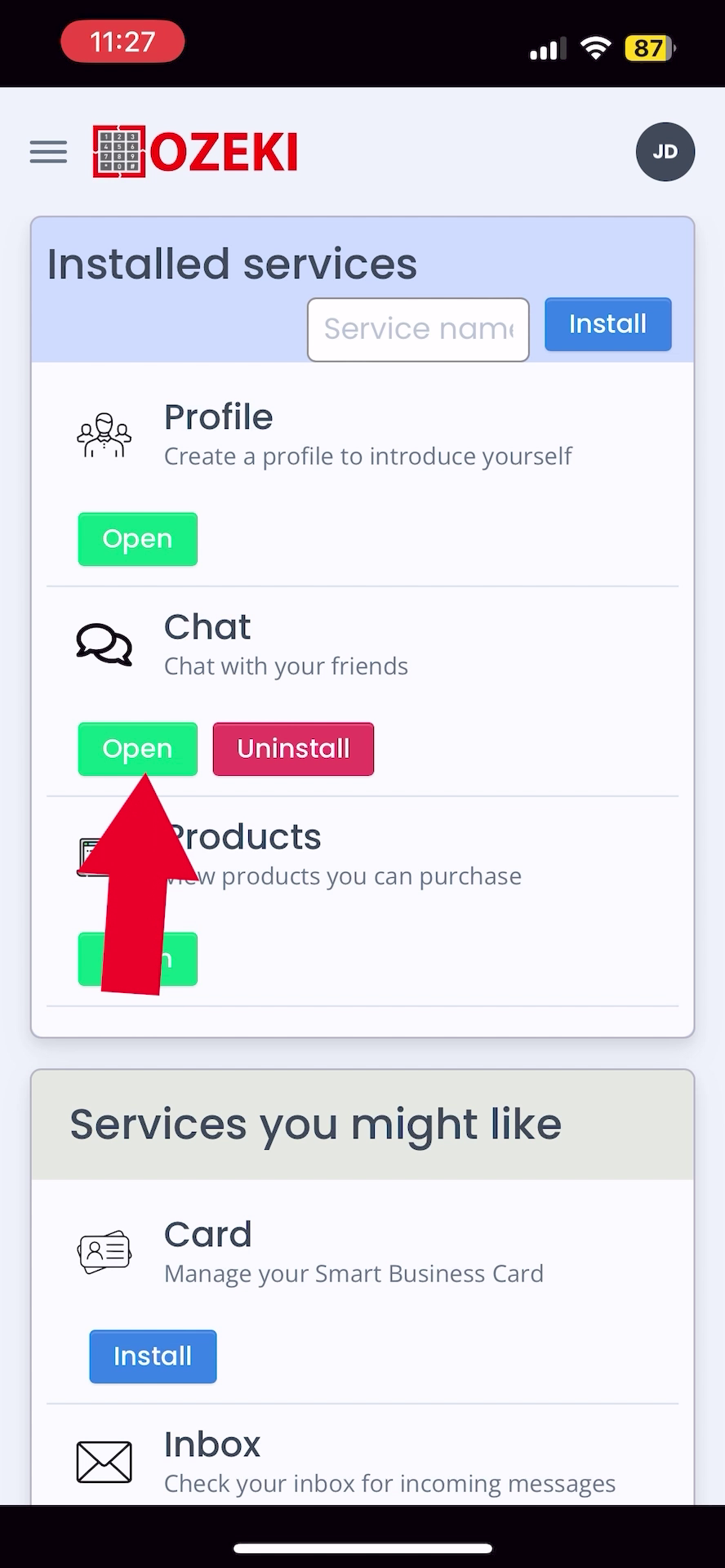 Add new friend
When you first open the Chat service, you will be prompted to find new friends. You will have to enter their email address to find your friends. If you already have friends look for the menu icon at the top right of the screen and click it, a select menu should open, click on Add friend and enter their email address.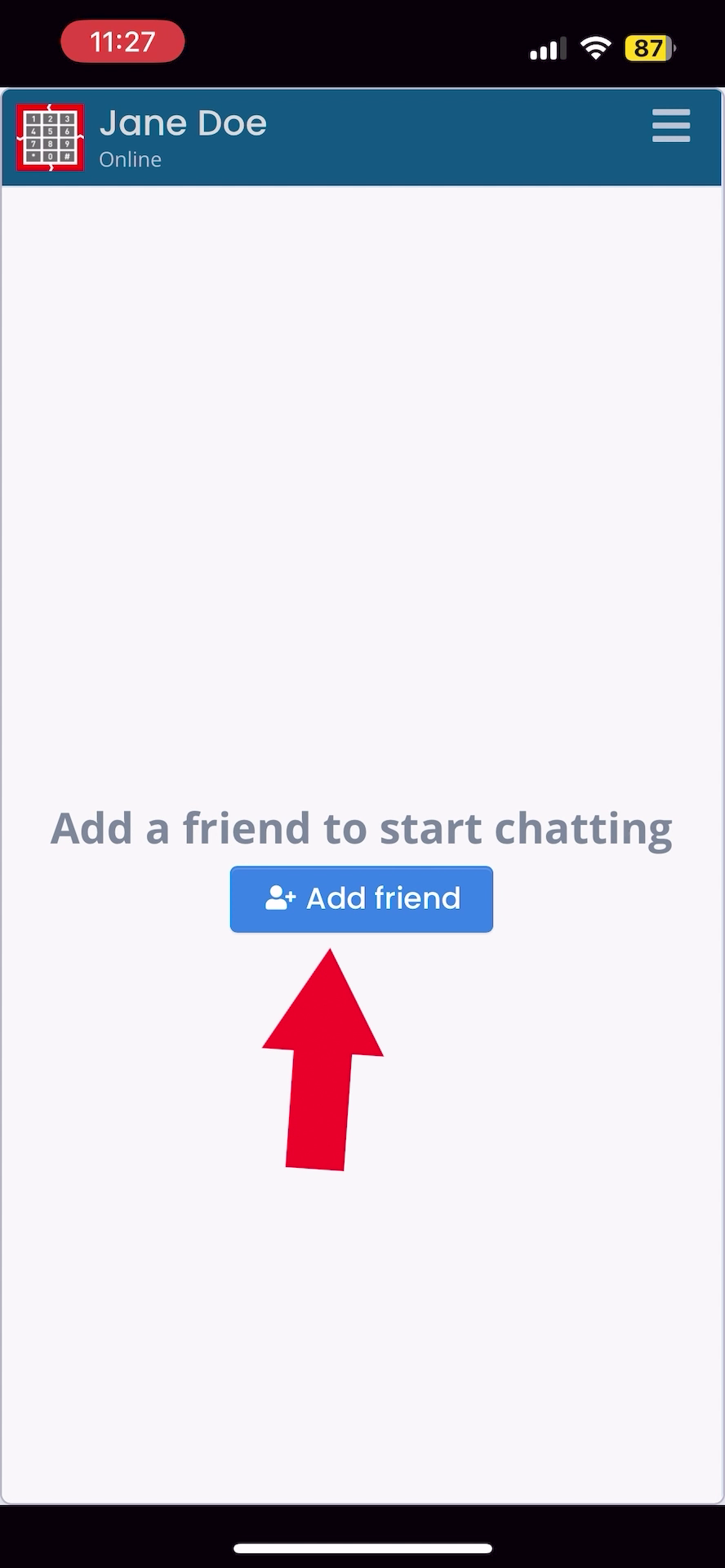 Select friend to add
Once you have found your friend by their email address, click on the little person icon with an additional sign next to them. This will add the person to your friends list.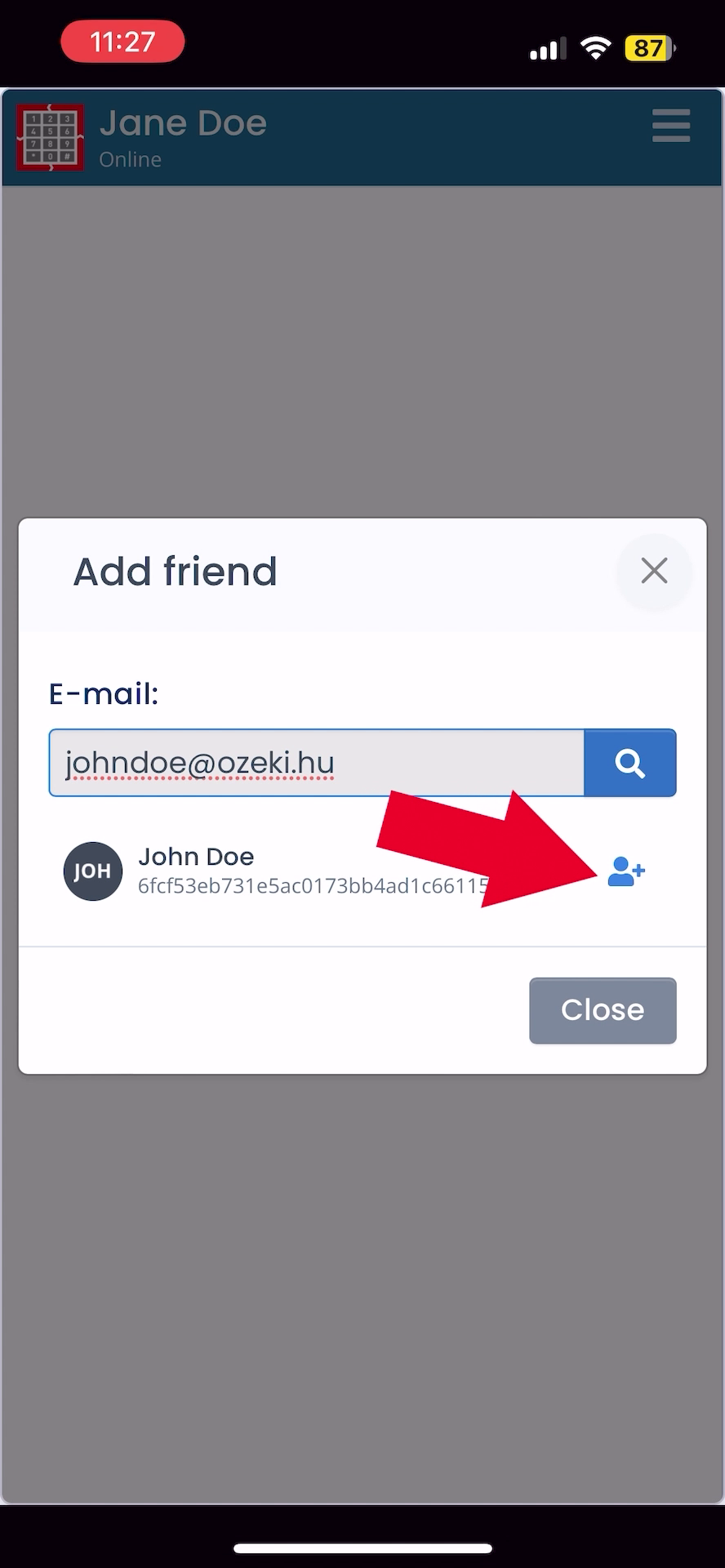 Open chat with friend
Open the chat with your friend by clicking on their name and profile picture.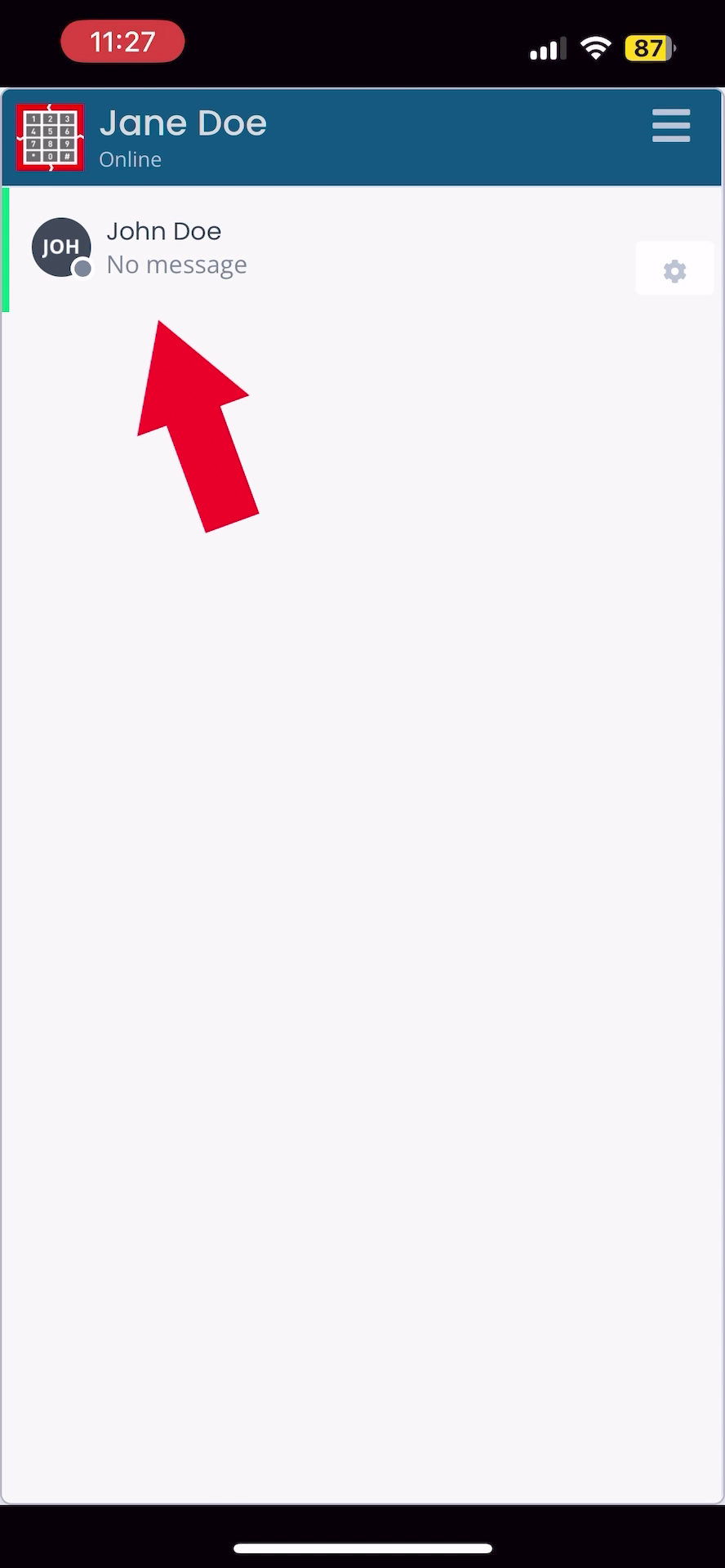 Send message to friend
To send a new message to your friend, type the content of your message to the input field and press the Send button next to it. Until the message is sent to the server, you will see an empty circle icon next to it. If the message is sent and the server accepts it, you will see a cloud icon. Once the recipient's device receives the message, you will see a phone icon. This does not mean that they have read your message. Once they have read your message, a person icon will appear.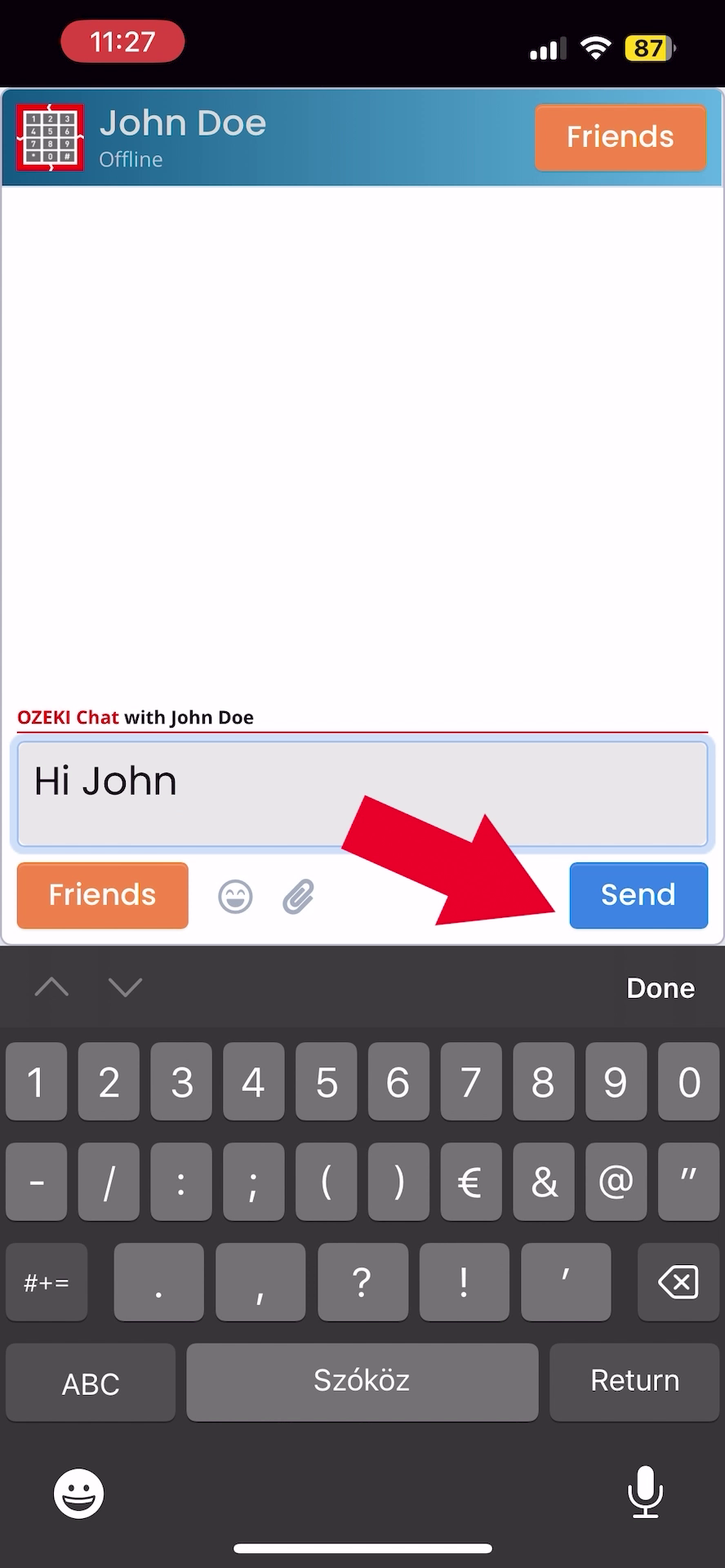 Receive message from friend
Once your friend has seen your message, hopefully, they will respond to you. Once they do that, you will see the message appear in real time on your screen.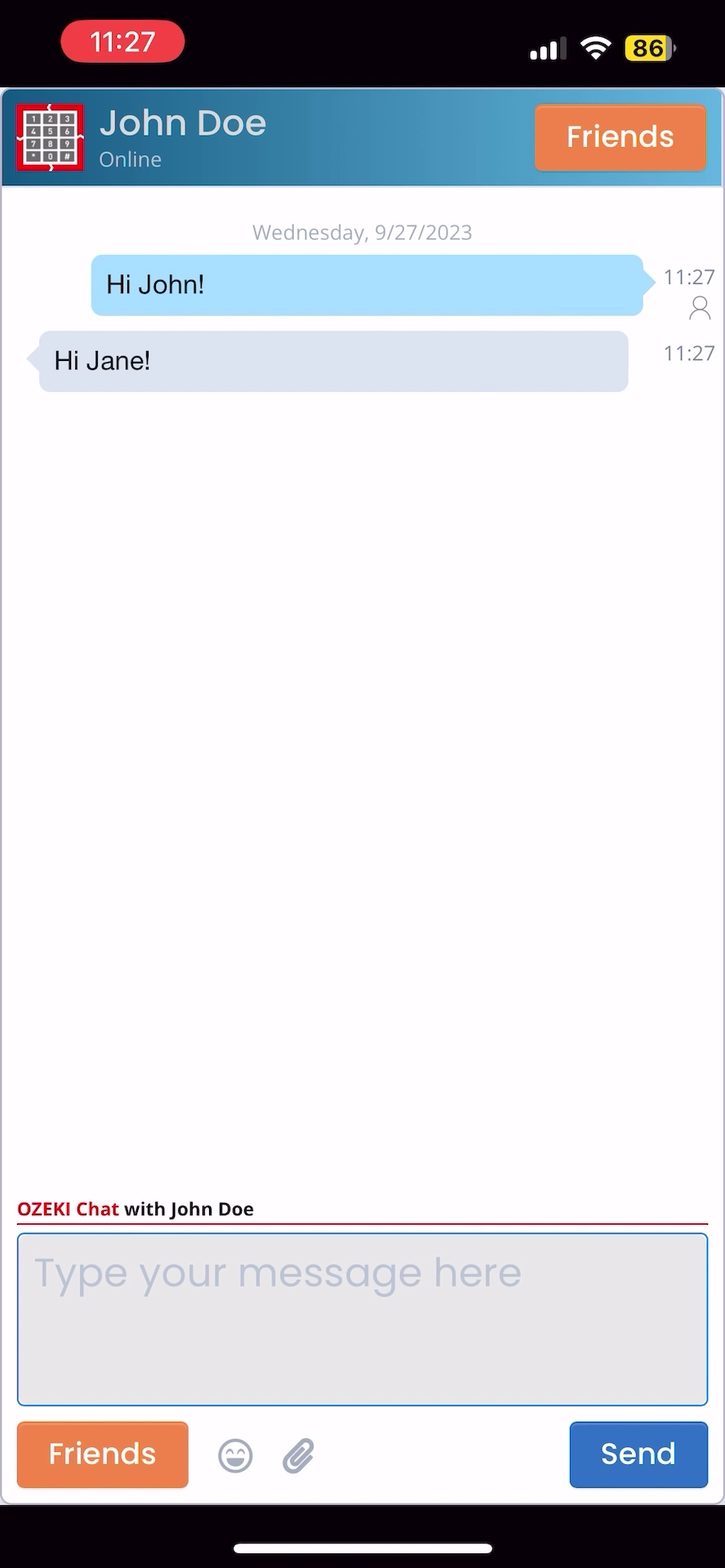 Congratulations!
You have learned the basics of Ozeki Chat messaging! You can now talk to your friends via the Ozeki Chat Service confidentially, with high security.
FAQs
What is a chat message on an iOS device?
A chat message on an iOS device refers to a digital communication sent through a messaging app, allowing iOS users to exchange text, images, videos, or other media in real-time, often with features like read receipts and typing indicators.
Why do messages say business chat?
Messages labeled as "business chat" are used to clearly indicate that the conversation is with a business or organization rather than an individual, reducing confusion. This label reinforces the company's brand identity and helps users manage their business-related communications separately from personal messages.
What is the difference between SMS and chat on iOS?
The main difference between SMS (Short Message Service) and chat on iOS is that SMS is a traditional cellular network-based text messaging system, while chat typically refers to internet-based messaging apps, offering more features such as group chats, multimedia sharing, and the ability to see when someone is typing. Chat can also work over Wi-Fi or mobile data.
Why use chat instead of SMS on iOS?
Chat is often preferred over SMS on iOS because it offers a richer user experience with features like multimedia sharing, read receipts, end-to-end encryption, and the ability to communicate with users internationally without incurring additional charges. It also allows for group conversations and can be used on a variety of devices, not limited to mobile phones.
More information